Destination Australia Scholarships
20-May-2020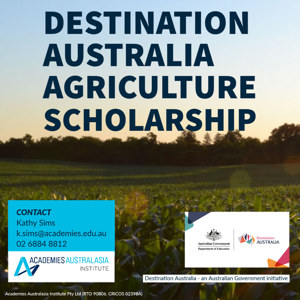 Academies Australasia Institute Pty Ltd (RTO 90806, CRCOS02398A) is offering Destination Australia Scholarships to study the AHC50116 Diploma of Agriculture or AHC60316 Advanced Diploma of Agribusiness Management in Armidale NSW.
The scholarships are valued at $15,000 each. Destination Australia - an Australian Government initiative.

Suitable for Australian and international students looking for a career in agriculture.
APPLICATIONS CLOSE FRIDAY 12th JUNE 2020
Overview
Training Provider

The courses are delivered by Academies Australasia Institute Pty Ltd (RTO 90806, CRICOS 02398A) with specialists of RuralBiz Training (RTO 90782). Academies Australasia Institute Pty Limited and RuralBiz Training are both part of the Academies Australasia Group.
Course
AHC50116 Diploma of Agriculture or
AHC60316 Advanced Diploma of Agribusiness Management (prerequisite of Diploma of Agriculture)

Location
Armidale, NSW

Scholarship Value
$15,000
Provided By

Destination Australia - an Australian Government initiative

Who can apply?

To apply you must:

Be a new student to AAI
Enrol in the Diploma of Agriculture or an Advanced Diploma of Agribusiness Management at our Armidale campus
Be a full time student
Maintain ongoing residency in Armidale, NSW during study periods.

International students must hold a Student Visa for the duration of the scholarship.
Meet Academies Australasia Institute entry requirements

Advanced Diploma of Agribusiness Management has prerequisite of Diploma of Agriculture


Delivery

Each course is delivered using a variety of delivery methods including face to face, online learning, practical and blended learning.


Full time study for 1 year
Course Duration


AHC50116 Diploma of Agriculture

12 months (4 terms/ 36 college weeks)

AHC60316 Advanced Diploma of Agribusiness Management

12 months (4 terms/ 36 college weeks)

Term Dates:

6 July - 7 August, 24 August -13 November, 2021 term dates to be confirmed.


Application Closing Date

Friday 12th June 2020


Submit applications to

k.sims@academies.edu.au

Enquiries

Kathy Sims, 02 6884 8812 k.sims@academies.edu.au

Click here to download a printable application form
Click here to download a fillable application form
---